By Lindsey Godbout |
Hometown: Parkland, Florida
Major: Marketing Management and Supply Chain Management
Minor: Psychology
Ruth Bang '21 was born in Chicago and moved to Florida at a young age. As one of five children, she loves being a part of a big family. She chose to attend Syracuse University so she could challenge herself by going to college far from home, have the opportunity to meet new people and step out of her comfort zone. She was also interested in the Syracuse Abroad program. This past fall, Bang had the opportunity to study in Madrid, where she was immersed in Spanish culture, language and history.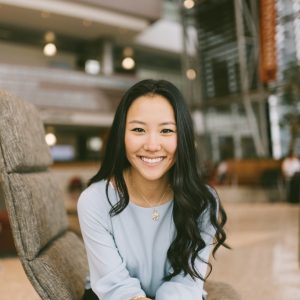 A member of Delta Sigma Pi, the professional business fraternity, and Beta Gamma Sigma, the business honors fraternity, Bang is dedicated to her Syracuse education and community. She is also a Whitman ambassador and peer mentor, figure skating coach for Learn to Skate and volunteer at Balancing the Books, a financial literacy initiative for middle and high schools in the City of Syracuse.
As a Whitman ambassador, Bang is happy to share her excitement and love for Whitman by guiding prospective students and their families on tours through the school. In her free time, Bang likes to take advantage of going to sporting events, music festivals, local events around the city and, being from Florida, northern winter traditions.
"Being at Syracuse has given me every reason to continue to dream big and work hard."
— Ruth Bang
Bang has completed several professional internships during her time at Syracuse. Her first internship was working for reCommerce Brands, a full-service brand agency that helps global brands optimize their presence and increase sales on Amazon. Bang was also an intern for LearnLaunch Accelerator in Boston, a startup accelerator for education technology companies.
She is grateful for the community of friends, peers and professors she has created during her time at Syracuse University.
"Over the past three years, I have gone through ups and downs both personally and professionally, but being at Syracuse has given me every reason to continue to dream big and work hard," Bang says. "Nothing I have been able to be a part of or accomplish would have been possible without the people I have here who push me to be the best I can be each day."
After graduation, Bang hopes to work in a city in a marketing or supply chain role and produce marketing content that can move a company's customers to have a strong affinity for the brand. Bang would also like to work for a nonprofit organization at some point to give back to her community. One day, she even dreams of starting her own company.
—
Lindsey Godbout is a senior majoring in public relations and pursuing minors in marketing and political science. She is currently the director of member development of the PRSSA W. P. Ehling chapter and vice president of Women in Communications at Syracuse University.