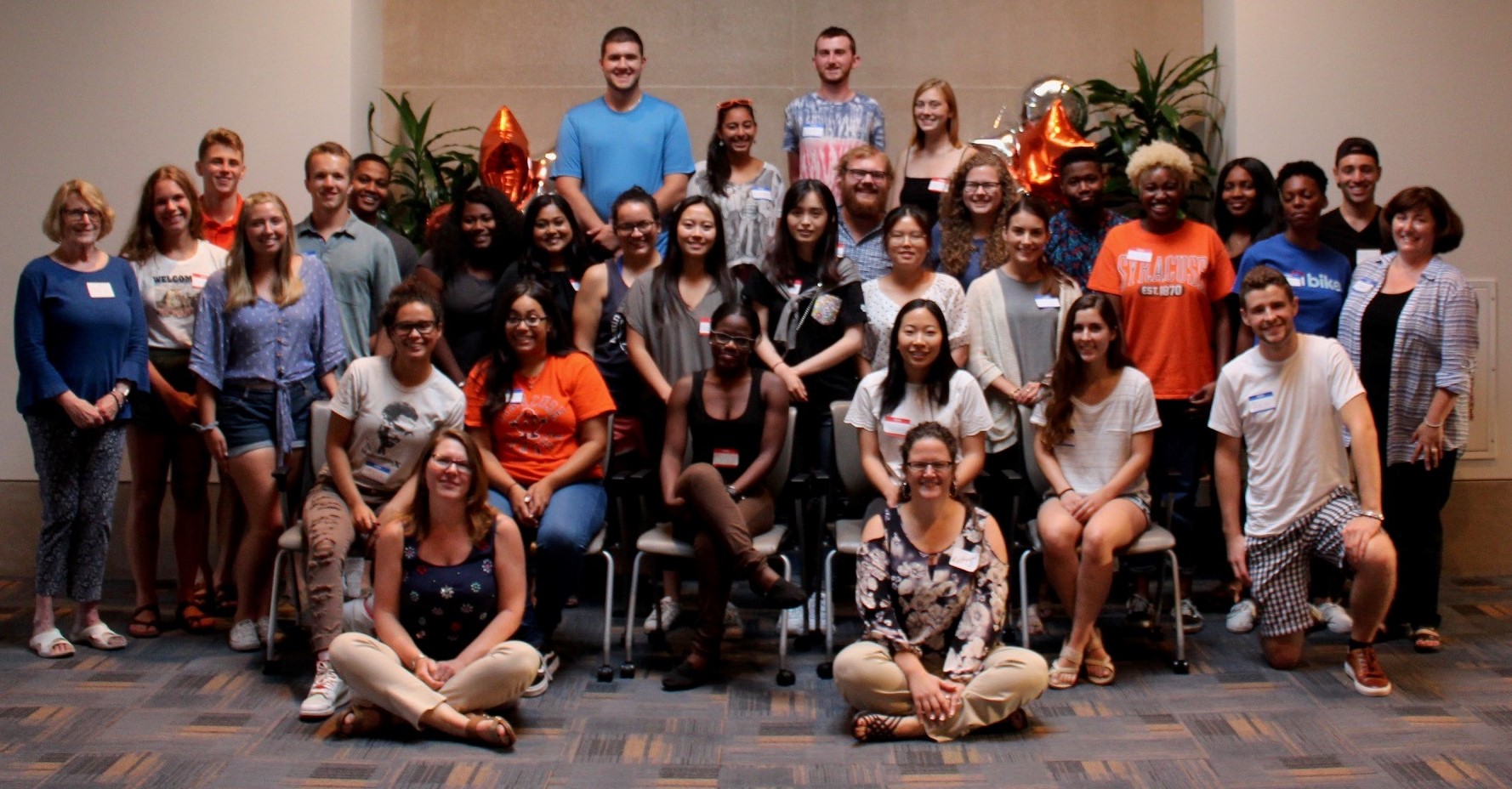 Established in 1994, the Shaw Center Leadership Intern Program attracts and retains some of the best students at SU.  Leadership Interns exhibit strong academic records, high levels of motivation, outstanding organizational skills, persistence, ability to work with others, and leadership potential.
The program is a skills-based and experiential learning opportunity for undergraduate students, to help them develop leadership abilities and professional expertise.  They participate in challenging assignments designed around real-world problem solving which requires a high level of critical thinking.  Working under the direct supervision of the Shaw Center professional staff, and in concert with faculty, staff, students, and community partners, Leadership Interns have the opportunity to develop, implement, and evaluate Center programs and initiatives.  This is an invaluable learning experience for students to lead and apply knowledge, while helping to coordinate and administer several thousand hours of community engagement a year.
Each Leadership Intern position requires $5,000 to $10,000 support per year, depending upon variables such as student salaries, materials, and transportation costs specific to each project. Funding comes from external donors such as alumni, individuals, and corporations, as well as grants, SU schools and colleges, and other institutional support.  This generosity results in enhanced student experience and student learning for Syracuse University students, while fostering reciprocal and generative community partnerships.
In a typical academic year, 35-40 Leadership Interns work in the office and provide support for the Shaw Center.  The Leadership Intern Program prepares our students for continued active civic participation upon graduation while also expanding cultural awareness and sensitivity.  Graduating Leadership Interns complete senior exit interviews as a way to assess their overall experience, describe the impact to their personal and professional lives, and share their stories.

"The (now former) Chancellor likes to use the saying 'education for the world, in the world.' That is exactly what the Shaw Center has offered me. The experiences gained in the hours I have spent working each week for the Shaw Center comprise the single-most meaningful thing Syracuse University has offered me.
Little did I know four years ago when I wandered into your office looking for a job driving van that my relationship with the Shaw Center would take me to Texas, Florida, and California as a representative of Syracuse University; that I would be offered the chance to meet President Clinton and represent his foundation to my peers across the world; and be an invited guest on the Today show to talk about a program that my peers and I had the freedom to create.
The most important chance afforded me is my experience working with the children of the Syracuse City School District, which I will carry with me for the rest of my life. As I look to begin a career in the public sector, what I saw in the city schools will no doubt guide me to focus on urban education reform. This experience has shaped me into a lifelong public servant. For that I will be forever grateful."
– Tim Biba '11 (A&S, NEW)
Literacy Leadership Intern, Corps Council Chair, SU Literacy Corps Tutor, one of the students who developed Books & Cooks!