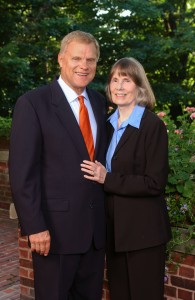 When Chancellor Kenneth A. "Buzz" Shaw became SU's tenth Chancellor and President in 1991, he envisioned Syracuse University becoming the nation's leading student-centered research university – making student learning the University's highest priority. This vision coincided with a national reawakening of the service movement. Unlike efforts of earlier decades, SU's response to the times would promote volunteer service as a fundamental part of the student learning experience at SU, becoming a core value of "the mission and curriculum of the University"(Shaw, 1994). It would be innovative, intentional, focused and driven by results. And it would be organized.
"This is integral to what we do as a university, and it comes at a time when the country is renewing its efforts to involve young people in service to the nation." (Shaw, 1994)
Mary Ann Shaw, associate of the Chancellor and his wife, wove the first threads of the fabric that is today's Shaw Center. A patient and tenacious visionary, she accomplished her goals by empowering others to do what they do best, convening a cross-section of more than 100 campus and community members to brainstorm ideas for a center. During 1992-93, goals and action plans emerged. A design team studied successful models of service learning programs at other institutions of higher learning and received technical advice and assistance from Campus Compact, a national coalition of college and university presidents committed to fulfilling the civic purposes of higher education. The team tapped into existing traditions at SU, from Professor William Coplin's innovative Public Affairs model in the Maxwell School to engagement programs at Hendricks Chapel, as many hands – from advancement, academic and student affairs, student groups and the community – stitched the fabric of the center.
The Center for Public and Community Service (CPCS) officially launched in September 1994, thanks to a three-year grant from the Carrier Corporation, continued support from the Chancellor's Office and two student staff. CPCS began as a pilot project in a small suite of offices in the Schine Student Center with founding director, Pamela Kirwin Heintz, at the helm.
1997 provided an opportunity for CPCS and SU to expand its internal and external collaborations by responding to President Clinton's America Reads Challenge. In partnership with SU's School of Education, the Syracuse City School District, the Office of Financial Aid, and the Chancellor's Office, CPCS developed the SU Literacy Corps. Through this program hundreds of trained SU tutors continue to go into the Syracuse community every year to work with children and families struggling with literacy challenges, as well as enhance and expand traditional classroom learning and scholarship.
By 2001, with continued support from the Chancellor, his associate Mary Ann, and leadership from vice chancellor and provost, Deborah Freund, CPCS became a program in the division of academic affairs. In 2004, retiring SU Board of Trustees Chair, Joseph O. Lampe '53, G'55, described Mary Ann's work as "unparalleled and visionary," by opening up new avenues of learning and by proclamation, the Board honored her commitment to campus and community by renaming the center – the Mary Ann Shaw Center for Public and Community Service.
Syracuse University's Strategic Plan, "Trajectory to Excellence," identifies a first theme as providing all students with a world-class learning experience that prepares them for future success. From Trajectory to Excellence, "These competencies would connect traditional academic work (such as critical thinking, oral and written communication, scientific and quantitative reasoning, and global competencies) with essential life skills (such as resilience building, cultural and global awareness and sensitivity) and soft skills (such as teamwork and adaptability). Strategies to achieve these skills and values should be both curricular and co-curricular. Because knowledge is not static and meaningful scholarship cannot thrive in isolation, student learning will be tested and nurtured through signature experiential, entrepreneurial, and global opportunities that merge theory with practice in ways that spur innovation, enhance scholarship, encourage identity as global citizens, and facilitate substantive engagement in our communities and world. Experiential education and engagement in local and global communities are distinctive strengths at Syracuse, and they become increasingly important as employers seek employees who have real-world experience in putting theoretical knowledge into context and practice." Community engaged learning is a high-impact research-based practice that is proven to achieve these results in college students.
Over the years, our tapestry of Service Learning, Literacy, and Leadership has been enriched through the generosity of many —the Carrier Corporation, Key Bank, Chase Bank, Morgan Stanley, Starbucks, and Coca Cola to name a few— as well as individual gifts from the Kenneth A. and Mary Ann Shaw and Marion Entwistle endowments, the Robert B. Menschel family, the Whitman and Falk colleges, the Vision Fund, SRC and the Winnick Family Foundation. The continued commitment and support from the Chancellor's Office, Academic Affairs, Office of Financial Aid, generous alumni and numerous private and public partners, allows the Shaw Center to be this special place on campus where all students are provided with a world-class community engaged learning experience, grounded in ethics and integrity,  that prepares them for future success.
From a dinner conversation with Founder Mary Ann Shaw when in Ireland, former Assistant Director for Literacy Initiatives, Roberta "Bobby" Gillen, knew the center would be a home for her. Accompanying her husband on an executive programs conference in Limerick, Ireland, in 2000, Bobby engaged in a conversation with Buzz and Mary Ann Shaw that would transform her life and thousands of those around her. Her twelve-year tenure with the Shaw Center has shaped the SU Literacy Corps into Shaw Center Literacy Initiatives – a strong and growing resource for urban education. Working with campus, community, and corporate partners, Bobby has overseen more than 300 SU student tutors yearly, who provide close to 40,000 hours of literacy support in classrooms, after-school programs and adult literacy sites throughout Syracuse. Advancing from a part-time SU Literacy Corps role to Assistant Director in 2003, Bobby shaped the growth of SU's literacy leadership. With her retirement in the summer of 2012, she leaves a legacy of programs firmly in place – successful literacy outreach partnerships that touch young lives on and off campus every single day.
With ever-changing threads and strands, the Shaw Center continues to evolve as a powerful learning environment on campus and as a force in and with the community. Mary Ann provided the first threads and the frame for this amazing tapestry. Bobby stitched and secured literacy to the whole – connecting points that will provide strength for those yet to come. We look forward with excitement as stories yet untold continue weaving the tapestry known as the Shaw Center.