By Danielle Llewellyn |
For two Leadership Interns at the Shaw Center, Sarah Millward, a junior in the David B. Falk College of Sport and Human Dynamics, and Ahlam Islam, a senior in the Maxwell School of Citizenship and Public Affairs, eighteen-hour flights are no foreign concept. Their homes lie across the Atlantic Ocean in the United Arab Emirates and Saudi Arabia, respectively. Their stories are different, yet they share a common charisma and passion for their work at the Shaw Center. They also demonstrate a skill valued in any environment: cultural competence.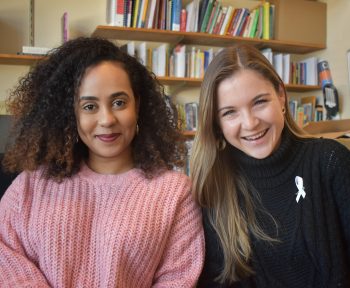 According to the American Psychological Association, cultural competence is "the ability to understand, appreciate, and interact with people from cultures or belief systems different from one's own." By working at the Shaw Center, they have been able to share and implement their cultural knowledge in a place open to new ideas, different cultures, and diverse backgrounds.
When Sarah came to Syracuse as an international transfer student in the beginning of sophomore year, it was challenging for her to find a niche where she could meet new people and become involved on campus. The strong focus on diversity and inclusivity immediately drew Sarah to the Syracuse University Literacy Corps program, where she began as a tutor and was later promoted to a Leadership Intern. She says, "when I was offered an interview for the position of intern myself, I could not have been more excited, as I knew that this would be a diverse, welcoming, and inclusive work environment."
Being a Leadership Intern with the Syracuse University Literacy Corps has provided Sarah with the opportunity to broaden her understanding of the greater Syracuse community and introspectively examine her own position within it. She reveals, "it has given me a better understanding of the community that we are a part of, and what impact we have on that community."
Ahlam was a tutor for Syracuse University Literacy Corps during her freshman and sophomore years, but she wanted to offer more. She decided to extend her experience by applying to be a Leadership Intern. For Ahlam, the Shaw Center has fostered an environment that encourages her to share her own narrative. She answers, "[it] has been a space where I can share my multicultural background and where I have learnt to foster that dialogue with people from a variety of backgrounds." It even inspired her Citizenship and Civic Engagement (CCE) project, where she integrated her personal experiences, sociological knowledge, and passion for multiculturalism into an action plan that will improve the training for the Syracuse University Literacy Corps tutors.
The Shaw Center strives to be a home for individuals of all identities and a leader in the promotion of greater cultural understanding of one another. For Sarah and Ahlam, the Shaw Center is a community of compassionate individuals, making it a safe place for honest and meaningful discussions. By applying their cultural competence through their work, they are learning more about themselves while also helping to cultivate a nurturing and supportive hub of engaged students, advocates, and innovators.
To learn more about how you can become involved in the Shaw Center, please visit: https://shawcenter.syr.edu/
– Danielle Llewellyn is an undergraduate student at Syracuse University, Class of 2021. She majors in Psychology and Sociology in the College of Arts and Sciences and Maxwell School of Citizenship and Public Affairs at Syracuse University.