Dylan Bryant, who graduated in May 2020 as a Spanish and English & Textual Studies double major from the College of Arts and Sciences with an education studies minor from the School of Education, was accepted into Spain's North American Language and Culture Assistants in Spain program. The program, which is administered by the Spanish Ministry of Education in collaboration with the Spanish Regions and the Education Offices of the Embassies of Spain to the U.S. and Canada, provides college juniors, seniors, and recent graduates the opportunity to help Spanish k-12 students learn English. Dylan was selected to serve as a Cultural Assistant in the Spanish province of La Rioja. The program should start in October 2020. Dylan, who also applied for a Fulbright English Teaching Assistantship to Spain in the fall of 2019, shared his experience of applying to this program.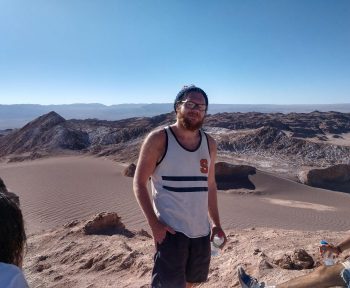 What made you interested in applying for positions where you teach abroad?
I really loved studying abroad in Chile, an opportunity I had that was supported by a Benjamin A. Gilman International Scholarship. That experience underscored for me the importance of cross-cultural education and exchange. It's important for individuals to experience cultures and lives different from their own, and study abroad is a key way that can happen. I ultimately want to work in higher education in the realm of study abroad and / or Spanish language teaching, so applying to be a teacher in peninsular Spain where I can improve my Spanish and learn more about Spanish culture seemed like a good fit.
How did you learn about the North American Language and Culture Assistants in Spain program?
I learned about it from CFSA's assistant director, Melissa Welshans. Melissa helped me apply for a Fulbright to Spain, and after learning that I wasn't accepted into that program she reached out to inform me about an alternative program administered by the Spanish government. She had heard from a colleague who previously participated in the same program that it was a great experience and thought I might be a good candidate. After meeting with her and reading more about the program, I realized it's a lot like Fulbright and decided to apply.
How did applying for a Fulbright English Teaching Assistantship prepare you to write your application for the Cultural Assistants in Spain program?
The Fulbright ETA application really makes you consider why you are passionate about engaging with the people of your host country in an educational setting. To do this, one has to think about how their background and skills make them a good fit for a teaching-centered program, and include that in the required application essays. The application for the Cultural Assistants in Spain program also requires applicants to submit a cover letter that addresses why they want to engage with Spanish students as an educator. Although I did have to edit my Fulbright materials to fit the Cultural Assistants in Spain program's application, I had all the content I needed already drafted.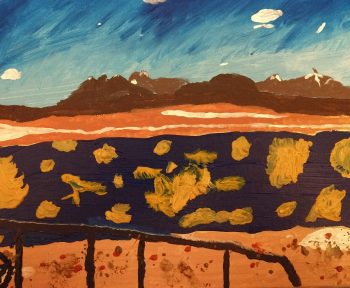 What do you think made you a good candidate for this program?
I've worked with Literacy Corps for 5 semesters, and that experience definitely helped I'm sure. Because of that, I was able to write concretely about my pedagogy. I also spent a summer as an instructor for the program Practice Makes Perfect, a nonprofit in NYC that helps prevent learning loss over the summer months. These experiences, coupled with my Spanish major and education studies minor, likely made me a strong candidate.
Why did you select the province of La Rioja as one of your top 3 location choices?
I completed research with the support of a Syracuse Office of Undergraduate Research and Creative Engagement (SOURCE) grant about the Spanish Civil War, where I learned more about La Rioja's history in relation to the war. It really sparked my interest in the region, so in addition to listing Madrid and Barcelona as my placement preferences, I listed La Rioja. I'm really looking forward to spending time there.
What would you say to someone who wants to apply for a prestigious scholarship but is worried about the odds of acceptance?
Even though it was disappointing to not receive a Fulbright after spending a lot of time on the application, after the process I had a solid statement about my educational approach that I knew I could use for other applications. Especially now with the challenges of Covid-19, it's important for folks to come to terms with the fact that redefining your dreams or being flexible about them is ok. Things are uncertain and exploring lots of different options is a good thing. Often, there's more than one way to get to the same place.
—
Originally published here.