Lia Chabot, a senior economics and citizenship and civic engagement major in the College of Arts and Sciences and the Maxwell School of Citizenship and Public Affairs, and Yusuf Abdul-Qadir '11, G'20, G'21, an executive master of international relations student in the Maxwell School, have been named the 2021 recipients of the Chancellor's Award for Public Engagement and Scholarship.
First presented in 1992, the award grew out of an interest among students working with Syracuse University's Students for the United Way to honor fellow students for their contributions to the community. The award has evolved and is now given annually to an undergraduate student and a graduate student who have been significantly engaged in their community as part of a dynamic learning experience. Syracuse University embraces this commitment to promote positive change that simultaneously advances knowledge and meets real-world needs, magnifying impact and interconnectedness.
Chabot, a member of the Renée Crown University Honors Program, is an intern with the City of Syracuse Department of Neighborhood and Business Development. In that role, she has developed a parcel-level residential vacancy prediction model for the city's Division of Code Enforcement. She is also a research assistant in the Maxwell X Lab, conducting independent exploratory data analysis and presenting findings on a weekly basis.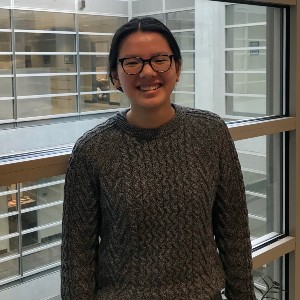 Her task with the Department of Neighborhood and Business Development was to use cutting-edge machine learning techniques to build a model for finding individual properties that are or are soon likely to be vacant for long periods of time. Vacant properties often fall into disrepair, reduce property values and become fire hazards and magnets for crime. The city's traditional methods of finding vacant properties are labor intensive and expensive, and are believed to find only about one in seven of the vacant properties actually in the city. Machine learning and artificial intelligence (AI) methods have the potential to make the process far more efficient and effective.
"Lia did a remarkable job of going far beyond the training she received in her courses to build a sophisticated model for the city that predicts vacancy risk," says Peter Wilcoxen, professor of public administration and international affairs in the Maxwell School. Wilcoxen and Carol Faulkner, professor of history and associate dean for academic affairs in the Maxwell School and interim chair of the Citizenship and Civic Engagement Program, nominated Chabot for the award.
"She was exquisitely sensitive to the potential risks that her model poses for exacerbating inequality and racism. In particular, she worked hard to integrate her action plan with what she learned in a course on residential segregation, and she was intensely aware of both the potential biases that crop up in AI systems in general and of the history of redlining and other policies that have targeted low-income communities of color," Wilcoxen says. "Overall, her combination of technical excellence, acute sensitivity to the community context and risk of exacerbating inequality and racism, and her superb communications skills, epitomize everything we hope to achieve in both the major and in the University's broader undergraduate program."
On campus, Chabot is a member of the University 100, serves as a peer mentor and teaching assistant in the Honors program, and is active in the Economics Student Association. Since May 2020, she has served as the president of Students Advocating Sexual Safety and Empowerment (SASSE) after serving terms as program chair and treasurer. She is a member of the Chancellor's Taskforce on Sexual and Relationship Violence and participated in two Student Association panels on sexual assault advocacy this past year.
"Lia is an excellent and innovative scholar, leader and citizen," says Faulkner. "Throughout her career at Syracuse University, she has demonstrated commitment to making the University and community better and more beautiful."
Abdul-Qadir is product policy manager at Facebook, where he provides product counseling across an array of products including the Climate Science Info Center, Lift Black Voices and COVID Info Center. He previously was a senior strategist for racial justice with the New York Civil Liberties Union and former director of the Central New York chapter. He is also an adjunct faculty member in the School of Information Studies, teaching at the intersection of emerging technology, public policy and racial equity. Earlier in his career, he worked in international sustainable development at the United Nations and with various civil society organizations.
He holds a bachelor's degree in political science and Middle Eastern studies from the Maxwell School (2011), a Certificate of Advanced Studies in sustainable enterprise from the Whitman School (2020) and a Certificate of Advanced Studies in national security and counterterrorism studies from the College of Law (2020).
Abdul-Qadir earned an executive master's of public administration from the Maxwell School in 2020 with an emphasis on public policy and change management. His capstone work for that degree focused on "Segregation, Environmental Racism and the Interstate Highway System: Repairing the Legacy of I-81 in Syracuse." His current degree work focuses on governance, diplomacy and international organizations, with a regional concentration on Africa.
Abdul-Qadir's work to help design secure and inclusive cloud architecture for smart cities with Lee McKnight, associate professor in the School of Information Studies, has helped advance racial equity and inclusion in the discourse regarding smart cities, and has been integrated as part of a National Institute of Standards and Technology framework for smart cities, while impacting smart city development globally.
"Yusuf is a scholar who rises above the crowd with a humanitarian nature keenly focused on communication and social justice that dates back to his undergraduate years at SU," says Keith Alford, the University's chief diversity and inclusion officer, who nominated Abdul-Qadir for the award.
Through his commitment as a social and public commentator, Abdul-Qadir has become a national figure and voice on issues of racial justice and impacted the national discourse around police reform and budgets. He helped change the discussion on the replacement of I-81 in downtown Syracuse, helping to influence regional, state and national policies through the integration of an environmental justice lens to the project's plan.
"Yusuf is recognized as an emerging activist-scholar whose contributions to the academy and policy are influencing structural changes within the very moment in which we live," Alford says. "Simply put, he has taken what he's learned at SU and put it into action with real-world impact."
The Chancellor's Award for Public Engagement and Scholarship nominating committee included Pamela Heintz, associate vice president and director of the Shaw Center (co-chair); Cydney Johnson, vice president for community engagement and government relations (co-chair); Nicholas Armstrong, director of research and evaluation in the Institute for Veterans and Military Families; Santiago Hernandez, undergraduate representative; Huey Hsiao, associate director of the Office of Multicultural Affairs; Brian Konkol, dean of Hendricks Chapel; Carla Ramirez, coordinator for literacy at the Shaw Center; and Sujeiry Santos, undergraduate representative.
By Kelly Homan Rodoski
Originally posted May 7th, 2021 here