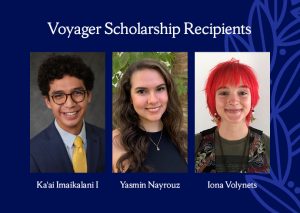 Three Syracuse University students have been selected as recipients of the Voyager Scholarship: the Obama-Chesky Scholarship for Public Service, a new award for juniors committed to public service funded by the Obama Foundation.

The recipients are:
Ka'ai Imaikalani I '24 of Honolulu, Hawaii, a double major in international relations and policy studies in the Maxwell School of Citizenship and Public Affairs and College of Arts and Sciences (A&S) with minors in biology in A&S and information management and technology in the School of Information Studies;
Yasmin Nayrouz '24 of Rochester, New York, an English major in the College of Arts and Sciences and public relations major in the S.I. Newhouse School of Public Communications with a minor in global security studies in the Maxwell School and a member of the Renée Crown University Honors Program; and
Iona Volynets '24 of Washington, D.C., a history and international relations major in the Maxwell School and College of Arts and Sciences with a museum studies minor in the College of Visual and Performing Arts, a Coronat Scholar and a member of the Renée Crown University Honors Program.
The scholarship provides $25,000 a year for two years toward education expenses, $10,000 for research/service travel between junior and senior year (Summer Voyage), $20,000 in travel funding for the next 10 years, and leadership training.
I plans to use the scholarship to gain more skills and experience navigating the nonprofit sphere, particularly as it pertains to housing. "As someone who has been able to view the failures of the housing market firsthand, I plan on using the opportunities given to me by the Obama Foundation and Brian Chesky to combat the lack of access to affordable housing in Hawai'i," he says. "This also takes on a more personal dimension, as I plan to focus most of my efforts on serving Native and Indigenous populations (as these communities are at far greater risk to lack affordable housing). Ultimately, I plan on using the scholarship to not only learn more, but to apply the knowledge I gain to better serve the communities around me."
Nayrouz plans a career in policy advocacy for refugees and resettled families. She says the scholarship will allow her to focus more on volunteering and supporting nonprofits that help immigrant and refugee communities. "I've had to turn down unpaid opportunities in the past, so having this scholarship will allow me to volunteer during my summer and focus on my interests," she says. "I hope to add to my education by using my Summer Voyage to explore policies and communication strategies that help immigrants and refugees."
Volynets plans to use the scholarship opportunity to pursue an interest in preserving and celebrating cultural heritage, particularly of Ukrainian refugees during the current conflict. "Next summer, I hope to travel to Germany to speak to Ukrainian refugees to create a virtual museum celebrating the culture that is threatened or lost during the conflict," they say.
All say their experience at Syracuse University has helped them prepare to make a difference.
"It was not until I sat through Professor [Bill] Coplin's PST 101 class that I realized how much I had to learn," I says. "I have learned countless lessons, perspectives and experiences that served to enrich my worldview and my ability to navigate professional and academic environments. Literally everything you can think of, from internships to community service, even this very scholarship, has been in some way impacted and enhanced by the vast resources Syracuse University has to offer."
"The policy studies program has allowed me to get a better grasp on what effective and feasible change can look like, particularly on a community-wide scale. Through an emphasis on skills, experiential learning and servant leadership, I was able to not only discern a shortcoming in my community, but through collaboration, devise a manageable and creative solution," he says.
Nayrouz says studying English and public relations at Syracuse has demonstrated to her the power of storytelling. "When we share stories, listen and use communication tools to advocate for those who often are silenced, I believe we can create more effective policies surrounding migration," she says. "At Syracuse, I've been connected to InterFaith Works, where I currently volunteer, and have been a part of Student Association, where I've learned how to address concerns students have effectively. I was also a part of a data journalism project with Professor [Nausheen] Husain, where we looked at the consequences that one migration policy can cause."
Volynets is gaining experience through their experience as a 2021-23 Lender Center Fellow. Their project involves creating a culturally sensitive food pantry for low-income refugee and New American women in Syracuse. And their experience in the museum studies program here showed them that it's possible to reconcile their love of art and their passion for public service, they say.
The Voyager Scholarship was created by President Barack and Michelle Obama and Brian Chesky, CEO of Airbnb, to help shape leaders who can bridge divides and help solve the world's biggest challenges together. Even though they come from different backgrounds, both the President and Chesky believe that exposure to new places and experiences generates understanding, empathy and cooperation which equips the next generation to create meaningful change. The scholarship gives college students financial aid to alleviate the burden of college debt, meaningful travel experiences to expand their horizons, and a network of mentors and leaders to support them.
All of the Voyager recipients learned of the opportunity through the Center for Fellowship and Scholarship Advising (CFSA) and worked with CFSA on their application materials. "We're thrilled that Kai'i, Yasmin and Iona will benefit from the extraordinary support and opportunities the Voyager Scholarship affords," says Jolynn Parker, director of CFSA. "Their leadership and commitment to public service represent the very best of our Syracuse community."
In 2022-23, the Voyager Scholarship was open to rising juniors planning careers in public service who are U.S. citizens, permanent residents or have DACA status. The deadline was mid-June. Eligibility requirements and deadlines for the next cycle have not yet been announced.
Originally published in Syracuse University News; Campus & Community here https://news.syr.edu/blog/2022/10/06/three-juniors-selected-as-inaugural-voyager-scholars/