REQUEST TRANSPORTATION ONLINE!!!
Students, log into OrgSync https://orgsync.com/login/syracuse-university. Click "Sign in with your campus ID" (Net ID and password).
Set up a personal profile (unless you already have one on OrgSync).
Orange banner at top of the page – CLICK "Search for Anything".
Write "Shaw Center", DO NOT HIT ENTER.
Several Shaw Center Transportation links pop up.
Click "Shaw Center Transportation Request Form".
Read carefully and complete the form.
Follow the instructions with regards to going to Blackboard to check the transportation schedule the evening prior to your transport each time you travel. The schedule times may vary slightly each day.
All the instructions you need are on the form or can be found in the links to PDF's.
Questions? Please contact the Shaw Center Transportation team, shawcenter@syr.edu
Shaw Center Vision
The Shaw Center aspires to be an international leader for higher education community engagement and to instill civic and global competencies as an essential core component of the Syracuse University teaching, learning and research experience.
Shaw Center Mission
The Shaw Center supports Syracuse University's mission to engage students and faculty by providing institutional leadership for experiential learning through community engagement in order to enhance academic learning objectives, research and the student experience.
Core Activities
Enhancing student learning through academic engagement opportunities in which students apply knowledge, skills and values in diverse community settings that address global issues and complex societal problems.
Fostering reciprocal and generative community partnerships for intercultural and ethical learning that collaboratively address community identified needs and meet institutionally defined goals.
Enhancing the student experience by developing leadership opportunities through internships, community engagement, center initiatives, literacy programs, and consultation.
Promoting a culture of innovation and discovery through real-world engagement that addresses unscripted, complex community issues and stakeholder expectations.
Supporting interdisciplinary collaboration with community partners for faculty research and creative activity that address emerging opportunities and societal needs.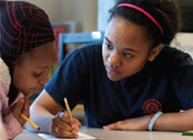 Leadership Opportunities
The Shaw Center is a living-learning classroom designed to help students reach their maximum leadership potential.