Please note: Our website is being updated at this time. If you have any questions regarding information within our site, please call our office at 315-443-3051, email us at: shawcenter@syr.edu, or stop by our office at 237 Schine.
Mary Ann Shaw center
for public & community service
Opened in 1994 with support from our Founding Partner, the Carrier Corporation, the Mary Ann Shaw Center for Public and Community Service is the centerpiece of the University's community engagement initiative encouraging students, faculty, and staff to work together for intellectual, ethical, professional and personal development through reciprocal learning in partnership with the community.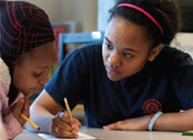 Leadership Opportunities
The Shaw Center is a living-learning classroom designed to help students reach their maximum leadership potential. Read more about the Shaw Center's initiatives, leadership interns, and volunteers in our Spring 2016 Newsletter.