Balancing the Books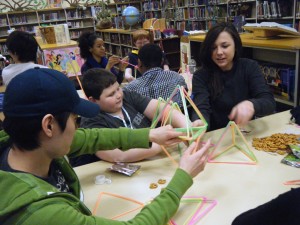 Balancing the Books (BTB), a collaboration between the Shaw Center, the Martin J. Whitman School of Management (WSM), Huntington Middle School and Henninger High School is a mentoring program which focuses on helping "at-risk" seventh and ninth grade students in the Syracuse City School District. Volunteer mentors from the WSM work one-to-one with middle school children at Huntington and ninth graders at Henninger helping them prepare for the difficult transition into high school. Mentors work with their mentees on financial literacy, reading, writing, mathematics, and other life skills that are necessary to help students achieve their goals in school and after graduation. These future aspirations may include a career or higher education. The program uses the knowledge and skills of WSM students to incorporate math and workplace skills into the tutorials.
WSM student mentors must commit to mentoring at least two consecutive semesters.
Completion of two academic semesters of BTB fulfills the WSM service graduation requirement.
Please download the two BTB Reference Forms and Balancing the Books Application. Completed forms can either be e-mailed or handed in to the Shaw Center.