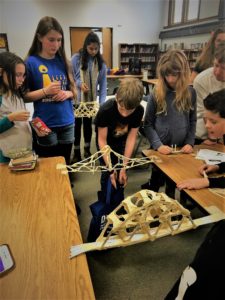 Work and learn with local middle school students by conducting hands-on STEM projects.
Engineering Ambassadors is an initiative under the direction of Mary Ann Shaw Center student and professional staff, and with support from SRC and College of Engineering and Computer Science (E&CS).  Engineering Ambassadors serve as co-learners and educators for the Syracuse City School District middle school student participants while facilitating hands-on science activities, applying knowledge the Ambassadors have learned in classes at Syracuse University.  The activities are designed to increase middle school student interest in STEM fields (Science, Technology, Engineering & Math), and promote healthy relationships with adult role models.  The mission of the Engineering Ambassadors program is to further develop Syracuse University student civic interest and spark a lasting passion in STEM early in the lives of the middle school students, with the ultimate goal of not only encouraging them to persist to graduation, but also to pursue those interests into high school and post-secondary education.
 When do Engineering Ambassadors engage with the local community?
Engineering Ambassadors facilitate sessions at local middle schools most Fridays during the academic year. Volunteer ambassadors sign up for days that fit with their schedule. Engineering Ambassadors also plan and participate in a Campus Visit for the middle school students during the Spring semester. Ambassadors leverage the relationships they have built with students over the course of the year to point out interesting places at the university and share stories of their academic experience.
What are the benefits of becoming an Engineering Ambassador?
Experiential learning is an effective way for Syracuse University students to practice professional skills and reinforce academic knowledge. It's also an opportunity to meet other engineering students and collaborate in intradisciplinary teams.  Every year a selection of "super" volunteers are selected for the Distinguished Engineering Ambassador Performance Award. This prestigious recognition is personally endorsed by the CEO of SRC, Syracuse University Associate Vice President of Engagement and Director of the Shaw Center, and the E&CS Dean.
Engineering Ambassadors are invited to visit SRC headquarters in Syracuse, NY each year. This provides Syracuse University engineering students the opportunity to tour SRC's work environment, network with professional engineers, and learn about the skills needed to apply for internships and entry-level positions.
How do I get started?
All volunteer ambassadors are required to go through one training session. Group orientation is offered at the beginning of each semester, and individual orientation sessions are available throughout the semester. If you'd like to apply, contact us at litinits@syr.edu.
What is an Engineering Ambassador Coordinator?
An Engineering Ambassador Coordinator is a paid internship where you gain more responsibility in preparation and facilitation of Engineering Ambassadors! The coordinators work both in the middle schools and on campus at the Shaw Center. Coordinators also enjoy the benefits of being part of the Shaw Center Leadership Intern team! We typically have a few open positions every semester. Contact us if you're interested.
Questions?
Contact us at litinits@syr.edu.